Ingredients
Crust

2 Cups nuts (1 cup cashews + 1 cup Almonds).

1 cup packed pitted Medjool Dates (Saudi Arabian dates): around 14-15 dates.

2 pinches of ground vanilla.

Filling

1 cup packed pitted Medjool Dates

2 medium Ripped avocados.

1 Tbsp. Chia seed powder.

1 Tbsp. Maple Syrup (or honey).

4/5 cup (0.8 cup) of water.

Berries and shredded coconut for garnish.
Introduction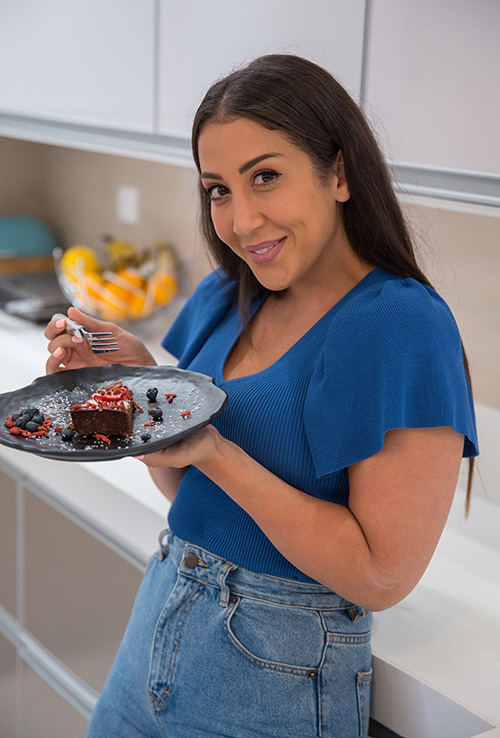 Rich, creamy, vegan and healthy tart that will make you drool for more.
I am so honored to be sharing this natural recipe with you and your loved ones. In fact, it's my birthday gift to y'all and I want you all to enjoy it with me…
In this recipe, I've used almond and cashews as a base for the crust; however, you may substitute one of them with Hazelnut.
In order for the crust to be firm, you should freeze it for more than an hour before adding the chocolate mousse. After adding the mousse make sure to freeze it again for an hour or more before serving it.
It can be stored in the freezer for 3 months, or kept in the fridge for no more than 2 days.
As for the filling, the last step is to add Agar-agar (a veg Gelatin), this step is important to hold the mousse together and act as a pudding.
Now let's enjoy preparing it!
Yield: 10 pieces.
Per piece: 11g dietary Fiber – 16g Protein – 2% vitamin A – 22% vitamin C – 17% Calcium – 14% Iron – 28% Potassium.
Instructions
Crust

• In a food processor pulse the almonds and cashews. Stop and scrape the sides of the bowl of the processor and pulse again. Keep repeating the procedure to make sure that they are completely ground evenly.
• Add the dates and process until they stick together.
• Add the rest of the crust ingredients and pulse till dough forms.
• Press the dough into a 28 cm (11") tart silicone mold, then into the freezer for more than 1 hour.

Filling

• In a food processor, add the warm almond milk and the dates and pulse till a smooth paste forms.
• Add the avocado and lemon juice and keep blending till fully incorporated.
• Add the bananas and blend again.
• Add the orange juice and cacao powder and blend for around 2 minutes.
• Add the ground chia seed, flaxseed and maple syrup and blend more.
• In a pot, mix cool water with Agar Agar and bring to boil. Keep stirring to avoid lumps formation.
• From the chocolate mousse, remove a full large spoon and into the pot while stirring continuously.
• Remove from heat, wait one minute, then add the agar mixture into the chocolate mousse and mix very well before the agar thickens as it cools.
• Pour the chocolate mousse agar mixture into the tart and into the freezer for around 2 hours till it becomes solid.
• Garnish with berries and Serve Cold.