Ingredients
A.Buckwheat raw granola Mixture

2

Tbsp pumpkin seeds, crushed

B. Sweet potato orange mixture

2

sweet potatoes (medium size)

C. Almond Cream

1

Cup soaked almonds

Overnight soaking

1

Tbsp. melted coconut oil

D. Toppings

½

Tsp. fresh cinnamon powder
Introduction
What is the first thing that comes to your mind when you wake up and it's Christmas day?
To me, other than gathering around the tree to open our gifts, it's actually having a sophisticated easy-to-carry breakfast for my toddler and I while we enjoy making a mess out of wrapped gifts.
It's all about the sweet-savory rich taste in every bite, the taste of guiltiness with no guilt, and guess what? It's healthy, natural, and packed with superfoods.
You may have heard the word superfood on many occasions now. And you may have wondered why certain items are considered and labeled as a superfood. If you look up the word "superfood" on the Internet, it will be defined as follow: "a nutrient-rich food considered to be especially beneficial for health and well-being".
My first choice of superfoods for our children are orange fruits and vegetables. As mentioned in my previous recipe (Pumpkin Spiced balls) they are very important to a child 's wellbeing and growth, as they are loaded with nutrients. Especially Beta Carotenoid, one of the main vitamin A precursor that is necessary especially in the winter time because not only vitamin A is required for sight, but it is well known to fight off inflammations.
In winter, our most abundant orange fruits and vegetables are Sweet potatoes, pumpkins, and oranges. Along with being rich in vitamin C (a known immune booster), oranges are considered "the Bff" of the digestive tract since they promote digestion and treat constipation because it comprises a high amount of fiber 2.5 grams per 100 grams (a medium size orange).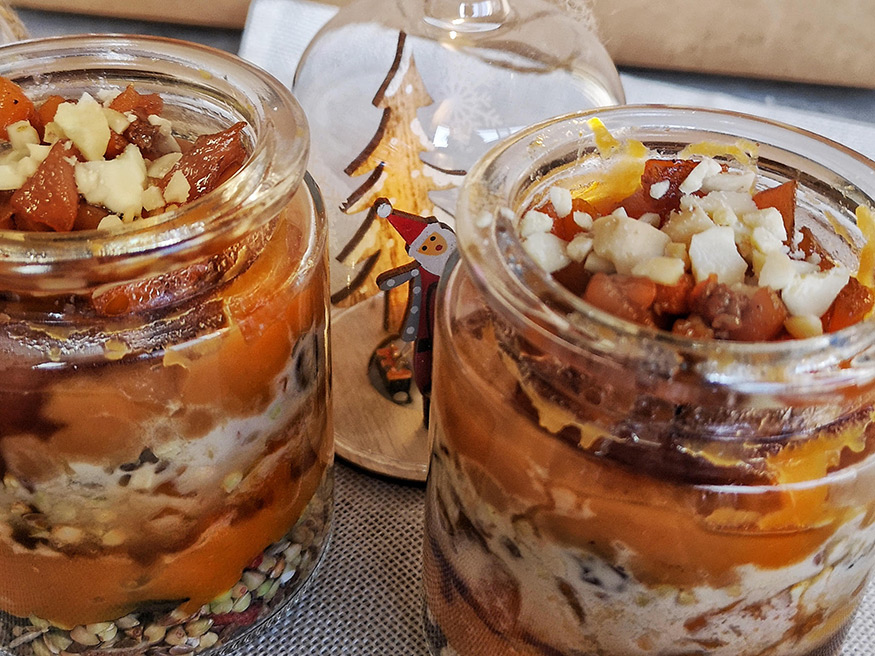 My second superfood of choice is Buckwheat. Buckwheat supplies important vitamins and minerals such as folate, vitamin B6, magnesium and manganese… as mentioned before (Stuffed Aubergine and bell pepper), buckwheat is an excellent choice to any meal, breakfast or lunch. It is important to be added to your child's meals during winter as it contains disease-fighting antioxidants.
My third choice is a bit of goji berries that contain all 8 essential amino acids that our body cannot synthesize. Each amino acid has unique properties and plays crucial roles in our children's continuously growing body. Other than serving as building blocks to our muscles and cells, some help detoxify the body by producing red and white blood cells, which are needed for our overall health and immunity. We advise you to eat them raw to benefit from most of their nutrients.
Almond cream is a perfect addition to this combination as it makes any meal healthier. And by that, we would have made a meal that is suitable for all people especially those with cow's milk allergy.
Now you know why it is called the Jolly Christmas Jar. Not only because my dear readers chose this as a name for the holiday treat, but also because its immune boosting characteristics makes it the perfect holiday sickness free treat.
Enjoy the holidays and let's get creative!
Yield: 4 Jars. (9cm length, 6cm width, 290 ml Jar)
Each jar yields 555 calories. Both mother and toddler to share (loaded with nutrients, fats)
N.B: this jar is made to be shared, or you can just get a small jar and each has their own.
Prepping & cooking time: 45 min max.
This recipe is divided as follow:
A. Buckwheat raw granola mixture.
B. Sweet potato orange mixture.
C. Almond cream.
D. Toppings.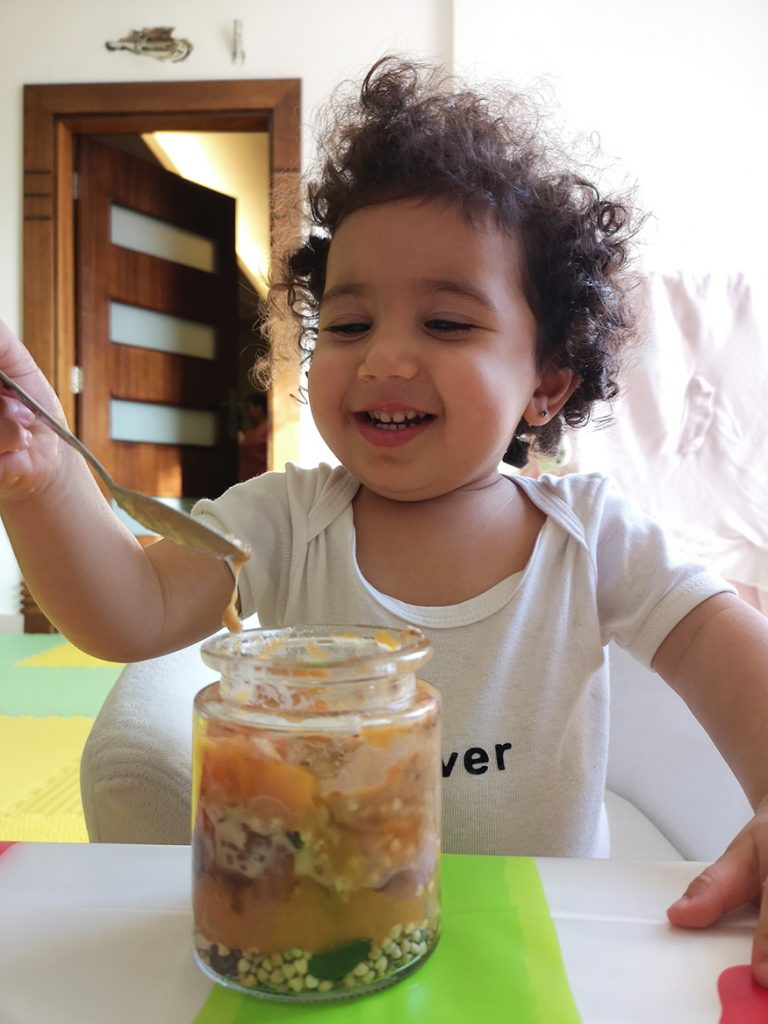 Instructions
A. Buckwheat raw granola Mixture

Ingredients:

1 cup of buckwheat.
2 Tbsp pumpkin seeds, crushed.
¼ Cup Goji berries.
2 Tbsp raisins.

Instructions:

Mix all the ingredients together.
Store in airtight container in a cool dry place, can last months if sealed well.

P.S: if buckwheat is not available, you can easily substitute it with steel cut oats (make sure to slightly crush the oats for easy digestion).

Optional: you can add flaxseeds and chia seeds to the mixture too. Mine had a teaspoon of flaxseed.

B. Sweet potato orange mixture

Sweet potato orange mixture:

Ingredients:

2 sweet potatoes (medium size).
½ Cup orange juice.
¼ Cup coconut oil.
¼ Cup coconut sugar.

Instructions:

Put the sweet potatoes in a pot and cover with cold water.
Heat the pot and bring to boil then let it cook for 10-15 minutes.
Once the sweet potatoes are soft and tender to the touch of a fork, turn off the heat and let it cool for around 5 minutes.
Peel the skin and into a bowl. With an electric handheld mixture, beat the potatoes and add the rest of the ingredients.
Mix very well until well incorporated.

Set aside and move to the next step!

C. Almond Cream

Ingredients:

1 Cup soaked almonds. (Overnight soaking)
1 cup of water.
1 Tsp. vanilla extract.
¼ Tsp. Himalayan salt.
2 Tbsp. raw Honey.
1 Tbsp. melted coconut oil.

Instructions:

After soaking the almonds overnight, drain and wash thoroughly.
In a high-speed processor or blender, combine the almonds with the rest of the ingredients and blend for 2 to 3 minutes until smooth.

N.B: it should be smoothed yet textured.

Taste and add more honey if desired.
Using a nut milk bag, add the almond mixture and close the bag.
Squeeze all the cream out; it may take more time in order to get all the cream out.
Discard of the residues inside the nut bag.
Store the cream in an airtight container and into the fridge for at least one hour.
Best to be consumed within 3 days.

D. Toppings

Ingredients:

1 Cup of diced pumpkins.
½ Tsp. fresh cinnamon powder.
¾ Cup maple syrup.
¼ Cup crushed almonds.

Instructions:

In a pan, add the pumpkins with the maple syrup and bring to boil on a low medium heat.
Add the cinnamon and stir to incorporate.
Keep stirring the mixture while decreasing the heat to low and simmer for about 8 minutes.
Turn of the heat and let it cool for about 5 minutes.
You can add the crushed almonds to the mixture or you can keep it as is.

Now let's Parfait!

E. Assembly

In a glass jar (I used a 9 cm length, 6 cm width (290ml) glass jar), add 2 Tbsp. of the raw buckwheat granola mix.

Than add on top 3 Tbsp. of the sweet potato orange purée.
On top add 3 Tbsp. of almond cream, and top it with another 2 Tbsp. of raw buckwheat granola mix with 1 Tbsp. of the pumpkin maple syrup mixture.
Finish layering with another 3 Tbsp. sweet potato orange purée, and cover it with pumpkin maple syrup mixture and sprinkle in the end some crushed almonds.

Et voilà, you got yourself a perfect Parfait for a perfect Christmas jolly holly morning!