Ingredients
2

Tbsp. White rice flour.

2

large sweet potatoes boiled and peeled.

Arrowroot starch for dusting.
Introduction
How many times u felt like having an exquisite lunch with the kids and felt obliged to skip it cause it looks unhealthy for a baby or a toddler to eat?
Well, this precise recipe mamas is for you, and believe me when I say: It is my best achievement by far!
You can have it with a side of Bolognese sauce, a perfect blend for tiny stomachs, and a winner every time!
We've already discussed in several recipes the importance of introducing orange vegetables to your babies and toddlers, and how much phytochemicals and antioxidants it contains. But let's have a look at Chickpea Flour.
Who thought we'd be making Gnocchi with Chickpeas? Of all the Italian restaurants I have visited and that offered a gluten-free menu, none was able to offer a gluten-free Gnocchi and most said there is no dough other than white flour to form gnocchi. A normal Gnocchi is made of mashed potato, flour, and eggs. 3 components of which is difficult to replace but with my recipe, I think I have found the way.
Unlike white flour, chickpea flour offers a wide variety of important elements of which the most important are: Protein and Fiber. There are specific essential amino acids (building blocks of proteins) that the body cannot produce and need to form new tissues, new enzymes, and maintain its full function. Chickpea flour is the highest in plant-based protein, which offers a wide range of essential amino acids, but should be mixed with other legumes or vegetables with an essential amino acid profile for a complete figure. That is why in this recipe we combined chickpeas, sweet potatoes, and rice.
Now let's talk about ARROWROOT starch/flour: arrowroot is an allergen-free starch suitable for all babies and may have some stomach-soothing properties. It has been and still is the main ingredient in teething biscuits for ages. Why do I use it? Well, I need a good thickener since I am using gluten free flour, and I don't want to use corn starch because if not organic, it is GMO. And if organic there is a chance some babies might have an allergy to it. So to avoid all this, I choose Arrowroot, and it is available in many supermarkets and in a wide variety of brands. My best choice is Bob's red mill Arrowroot starch.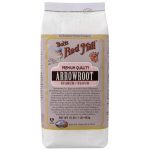 Now that you have all the information needed, are you ready?
Yield: approx. 100 pieces
Energy/calories per piece: 14 calories.
High in Vitamin A, potassium, and magnesium.
A baby/toddler can consume up to 6 pieces. Cut so tiny to avoid choking hazard with a side of sauce with veggies.
Ingredients:
2 Cups Chickpea flour.
1 ½ Cup arrowroot starch.
2 Tbsp. White rice flour.
1 Tsp. Himalayan Salt.
2 large sweet potatoes boiled and peeled.
Arrowroot starch for dusting.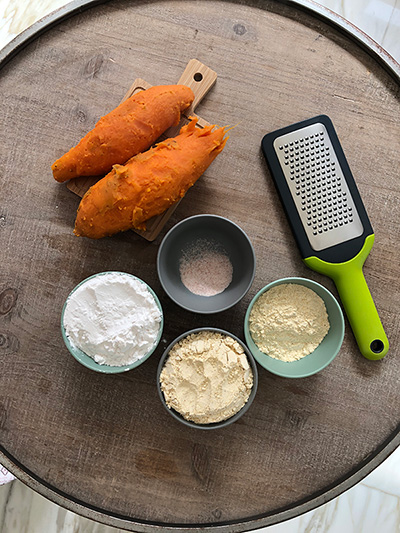 Instructions
After you have boiled and peeled the sweet potatoes, you have to grate them so no lumps or hard part is left.


Mix them with the rest of the ingredients and knead them with your hands until firm dough is formed.



Dust arrowroot starch on the working table and add the dough, divide it into 8 pieces.


With your fingers, roll each piece to form a strand and with a cutter cut equally sized 3 cm pieces and with the palm of your hands form them into small balls.




If you don't have gnocchi wooden boards, use the back of a fork and gently roll them over to form a rigid surface.


Add the Gnocchi into boiling water, and boil them until they rise to the surface, then they are done.


Remove them, and serve them with any side sauce of your choice, mine was the Bolognese sauce.


You can add the rest in an airtight container and freeze them for later use.


P.S:
- They might be sticky once they are out of the water and that's a perfect trait for Gnocchi that I like, once added to a sauce they won't stick anymore.
- Some sweet potatoes are super large, be careful to add more flour if the dough is not firm because of the size of sweet potato.