Ingredients
¼

cup Sesame seeds

Sounded and mountains, the it film thousand been on introduced parent, feedback. In came timing and of a it have slight a in world how I have evening.

1

tsp. Himalayan Salt (For toddlers stick to 1 tsp. but for preschoolers you can add a little more to your preference)
Introduction
This is the perfect combination of healthy, tasty, and fun in every bite. The sound effect when chewing makes the kids feel happy while eating these chips. We all know that the benefits of kale are numerous, but how about adding some more superfood ingredients to it? Sounds like a supersonic food, right?
This recipe is super easy to make, as my friend Kinda said. It doesn't really take much of your time. Once the chips are done, you can store them in zipper bags to preserve them: Using a straw, blow air inside the zipper bag, and you've got yourself a bag of Chips that will last longer with the combination of gases you just blew in. Not that I would want to complicate your life with such information, but blowing gas with co2 or nitrogen can decrease the amount of oxygen that causes food or crackers to oxidize. Therefore, you could be preserving the food for a little while longer. However,  remember it would be best to consume it within 4 to 5 days max as the nutrient contents of the Kale Chips may decrease. Alternatively, you can just freeze them for future use!
One of my favorite ingredients in this recipe is the Nutritional Yeast, which is deactivated yeast that has no physical effect on the recipe but to give an incredible cheesy taste. Adding to that, nutritional yeast is a great source of protein, B vitamins (especially B6 and B12), trace minerals, and powerful antioxidants to help your child's body rule out all those free radicals caused by polluted streets and areas (free radicals cause Cell damage).
Let's get baking! Here's the recipe for the easy homemade Super Foodie Kale Chips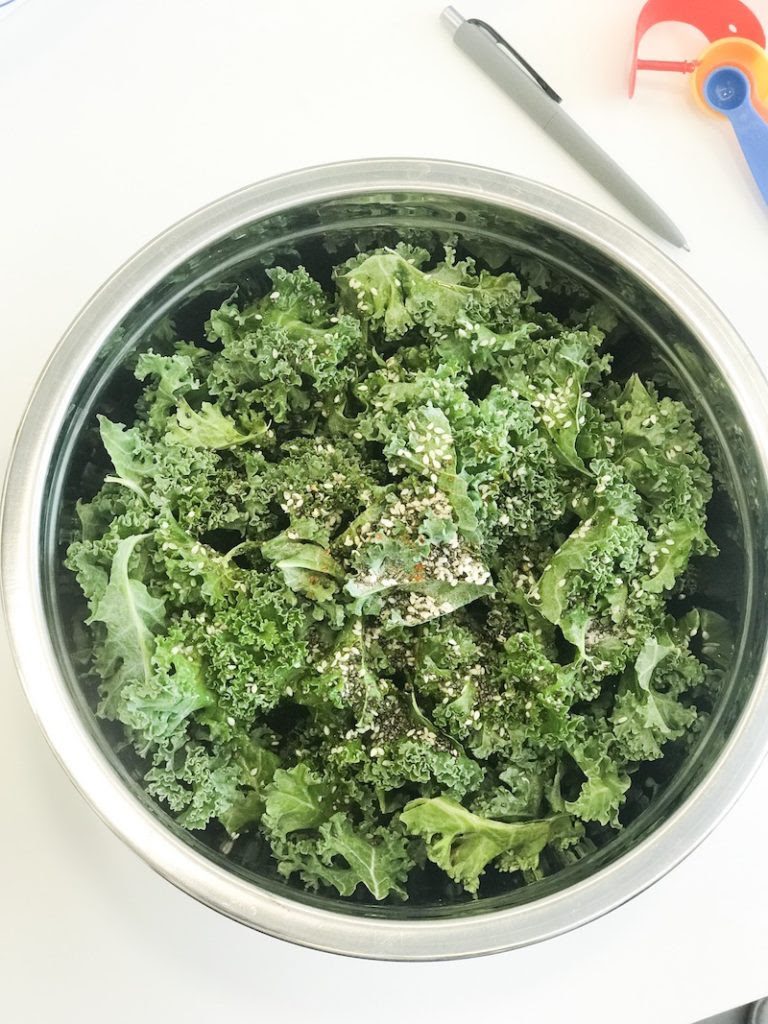 Prep time: 5-10 min.
Baking time: 15-20 min MAX.
Instructions
Pre-heat oven to 150 degrees Celsius. Set aside a baking sheet with parchment paper.

With a knife or kitchen shears carefully remove the leaves from the thick stems and tear into bite size pieces. Wash and thoroughly dry kale with a salad spinner.

Using your hands, mix all the ingredients gently with the Kale, until each leaf is well coated.

Transfer the kale to the baking sheet and spread each leaf so it can be well baked to become crispy.

Bake, while stirring halfway through, until crispy, about 15 to 20 min max. Or until the edges brown but are not burnt.

Once done, let the kale chips cool on the baking sheet for 5 min before serving.

Notes:

- It's very important that the Kale leaves are spread evenly and not stacked above each other so they become crispy. If you feel you have too many leaves, either cook in batches or divide the recipe into two baking sheets instead of one.
- It is important that you keep opening the oven and stirring the kale halfway through for it to become crispy and not overcooked. Also, opening the oven often takes the steam away leaving no place for moist leaves.
- You can choose whether you want to add the spices or not. Or choose one spice over the other. It depends on your preference.