Ingredients
For the filling

1

Tbsp. fresh grated Turmeric

1

Tbsp. fresh grated ginger

200g

of Lean ground sheep or goat meat

1

Tsp. ground black pepper

3

round-shaped Green bell pepper. (You can use Red bell pepper for a sweeter taste)

For the sauce
Introduction
It's kind of a challenge to twist savory Lebanese dishes and make them suitable for babies/toddlers, and families seeking a healthy living yet craving the rich taste of those traditional meals.
Our Lebanese stews and stuffing always contain rice as a main ingredient. Both white and brown rice are high in carbohydrates, although brown outshines silly white rice with having so many vitamins and minerals packed in its small grains.
However, we have to pay attention to the amount of carbohydrates a baby/toddler's meal consists of. 40-50% of calories should come from Fat and specific fatty acids like Arachidonic Acid (AA) and Docosahexaenoic Acid (DHA) for brain growth, maturation of the retina of the eye, and the nervous system.
A varied diet for a baby or toddler should definitely contain grains and seeds: rice, burgul, buckwheat, freekeh, quinoa… but not to stress on one and mask another. They should all be present in a varied moderated manner.
Nonetheless, I chose buckwheat for this precise meal because of how it imitates the texture and taste of rice after cooking. While most people think of buckwheat as a whole grain, it's actually a seed that is high in both protein and fiber.
One cup of cooked buckwheat grains contain the following: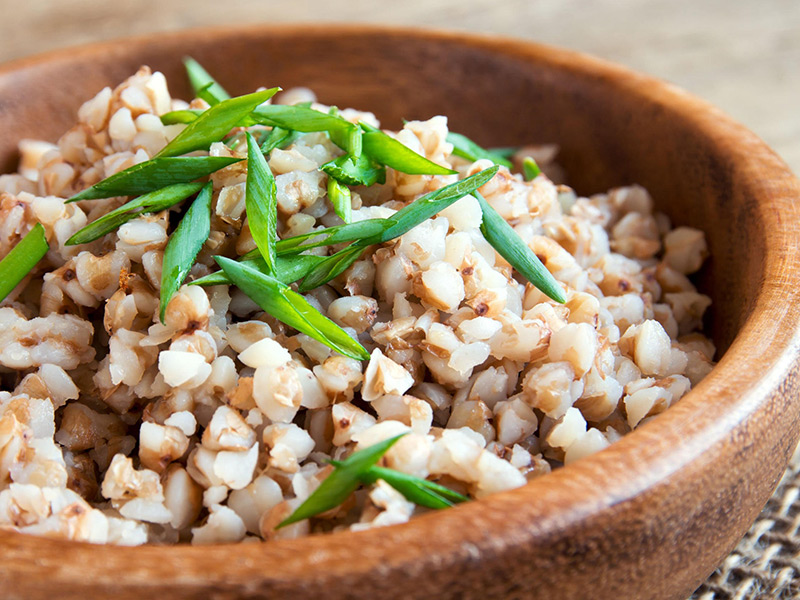 155 calories
6 grams of protein
1 gram of fat
33 grams of carbohydrates
5 grams fiber
Only 1.5 grams of sugar
86 milligrams manganese (34%)
86 milligrams magnesium (21%)
118 milligrams phosphorus (12%)
6 milligrams niacin (8%)
1-milligram zinc (7%)
34 milligrams iron (7%)
0.13 milligrams vitamin B6 (6%)
24 milligrams folate (6%)
0.6 milligrams pantothenic acid (6%)
Now that you've read the nutritional facts of buckwheat, let's take a look at its benefits:
Improves Heart Health By Lowering Cholesterol and Blood Pressure Levels
Contains Disease-Fighting Antioxidants
Provides Highly Digestible Proteins
High Fiber Content Helps Improve Digestion
Can Help Prevent Diabetes
Doesn't Contain Gluten and Is Non-Allergenic
Supplies Important Vitamins and Minerals
After learning all these facts about Buckwheat you can't but fall in love with this seed! And now that we've learned about it, let's get cooking!
Soaking: 8 hours.
Preparation time: 40 minutes.
Cooking time: 30-40 minutes.
Yield:
One stuffed eggplant and a bell pepper with 4 Tbsp. Sauce for a baby/toddler meal: 240 calories.
2 stuffed eggplants and two bell peppers with 6 Tbsp. Sauce for an adult: 450-500 calories.
Instructions
Prior to cooking

For the filling

Soak buckwheat over night, then wash and dry to be used in the filling.

Scoop out the flesh of 6 baby eggplants, and set aside to be filled.

In a bowl add the flesh of the eggplant with the rest of the ingredients of the filling list.

Cut bell pepper from top, and deseed it.

Once the filling is done, fill each of the baby eggplants and bell peppers and set aside.

P.S: You'll notice the remaining of the filling. This is to be mixed later with the sauce.

For the sauce

Meanwhile, add 5 medium sized tomatoes in a pot with ¼ the amount of water to cover tomatoes to half.

Bring to boil than simmer, till the skin of tomatoes becomes thin and visible to peel.

Turn the heat off, peal the tomatoes, and deseed them.

Add the flesh of tomatoes in a blender with tomato paste, garlic and oregano and blend thoroughly.

Add ½ cup of water to the sauce, and mix.

Mix the sauce with the remaining of the filling mixture that is left after stuffing the eggplants and bell peppers.

Add the stuffed eggplant and bell paper in a baking dish of your choice, and pour the sauce to cover the sides of the tray.