Ingredients
1/2

cup sunflower butter. (Or peanut butter)

1 1/2

Cup old-fashioned oats.

1

Tsp. fresh grated ginger.
Introduction
Before I start talking about the wonders of pumpkin, allow me to explain the importance of adding orange vegetables and fruits into your baby's and your diet. 
Orange fruits and vegetables are loaded with phytochemicals responsible for their bright orange color (ex: Beta-Carotene). It is these phytochemicals that fight off nasty diseases like cancer, boost our immunity, and decrease severe inflammations.
Beta-carotene, for instance, is a phytochemical component, that not only is responsible for the orange color of carrots for example, but it also gets converted to Vitamin A: an important fat-soluble vitamin that we need to improve our vision, and to strengthen our immune system and reproduction. Vitamin A also helps the heart, lungs and other organs to function properly. The abundance of antioxidants, vitamins, fibers, and phytonutrients in orange foods plays important roles in ones body.
Orange fruits and vegetables are numerous: carrots, pumpkins, oranges, persimmons, sweet potatoes, and winter squash…
Let's talk pumpkin!
Pumpkin is the star of every pie, soup, and baked goods. It has a sweet watery taste, and soft texture. When the pumpkin is roasted, it brings out more of the sweetness. It mashes very well and is perfect as a puree to accompany any snack or main dish.
If you buy a whole pumpkin (not cut), it can be stored in a cool place for over 2 months. Cutting a large pumpkin can be difficult and dangerous if one didn't pay attention, so it is easier to buy them already cut. Make sure to inspect the cut surface of the pumpkin for dryness before buying, and refrigerate the pieces for up to one week.
Pumpkins are a powerful source of fiber, potassium vitamin C, and beta-carotene (vitamin A). They also contain a wealth of antioxidants and vitamin E known to prevent degenerative damage.
This is the best fruit to be eaten by a child who has Diabetes: The seeds and pulp are excellent for helping the absorption of glucose, as well as balancing the levels of liver glucose.
Let's get Snacking!
Yield: 12-14 balls
Cooking time: 6-8 min
Preparation time: 10 min
Sunflower butter is high in calories. Toddlers should consume a maximum of 2 balls a day and not more.
Calories for 2 balls: 390 calories.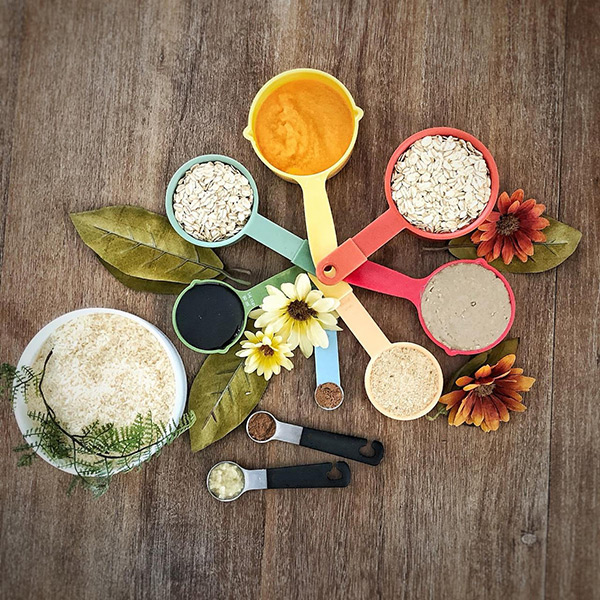 Instructions
Cut and steam pumpkins for 6-8 min.

When done, remove excess of water and blend them.

Measure ½ cup of blended pumpkins and add it to a bowl and toss all ingredients to be mixed together.

Use your hands to mix the ingredients, as they will be incorporated better.

Using a measuring spoon, take an amount of 1 Tbsp. of the mixture and round it using the palm of you hand.

Dip the ball into the shredded coconut, until the ball is covered fully.

When done, serve immediately, or pack them in an airtight container and refrigerate them for one week.

Note:

• We used sunflower butter for a nut-free snack, but you can substitute it with peanut butter. (If peanut butter taste is strong, almond or cashew butter would do the job)
• Sunflower butter can be easily made by roasting sunflower in the oven, then blending in a food processor with the addition of few tsp. of coconut oil until fully mixed.
• You can add more honey for a sweeter taste, but do know that honey is high in calories and your baby's taste bud doesn't require a high amount of sweetness.
• If you want to do this precise snack for a 10 months old baby, you can easily substitute honey with organic pure maple syrup.
• Please let the ingredients be as natural as possible, and stay away from canned pumpkin purees or any other commercial pumpkin puree jars as they might contain not only high amount of sodium, but also preservatives that we may not desire.