Ingredients
A. Kale chips

B. Homemade tomato sauce and the toppings

2

Tbsp. organic tomato pastes

1

Tbsp. organic dried oregano

C. Honey Whole-wheat Dough recipe

1 ½

cup of lukewarm water (40 degrees Celsius)

2 ¾

Tsp. active dry yeast

2 ¾

cups whole wheat flour
Introduction
Prep. Time: 25-35 min.
Baking time: 9-14 min.
One whole pizza, 8 pieces in total: 330 calories/piece. A toddler can have up to 2 pieces in total.
Christmas really is the most magical time of the year between the gifts and family time and all the amazing food… But what we wish for the most is a dinner table that is suitable for all the family and suitable for all ages.
Thankfully, there are tons of amazing recipes that fulfill everyone's needs. And what is tastier than a healthy nutritious Kale pizza?
Your friends and family won't even notice that these are salt free! (Except the dough, which contains 1 tsp. of Himalayan salt, to control yeast in baking; when divided into 8 pieces equally, each piece would contain almost 170 mg of sodium).
Here are some handy guidelines of how much sodium each age requires:
Children under 1: Less than 1g salt or 400 mg sodium daily (this amount is naturally taken from meats and vegetables. It is seriously not recommended to add salt to your baby the first years of life).
Children 1-3 years: Less than 2g salt or 800 mg sodium daily.
Children 4-6 years: Less than 3g salt or 1200 mg sodium daily.
Any increase in salt exceeding the recommended amount may lead to not only high blood pressure, but also an increased risk of acquiring cardiovascular disease later in life.
We're not talking here about an increase in only one day, but parents who constantly add salt to their babies and toddlers without taking into consideration its risks are also risking the child's inability to taste food as is without any addition of salt. This may also lead to picky eating.
Here are the different sodium intakes of each type of salt:
Table salt contains 2300 mg of sodium in 1 Tsp.
Sea salt contains 2000 mg of sodium in 1 tsp.
imalayan salt contains 1400 mg of sodium in 1 Tsp.
The following amount makes it easy to know which type to choose. Let's not forget that table salt is heavily processed to eliminate minerals in order to taste a certain way. Or the additives added to it to prevent clumping.
If I were to choose for myself, Himalayan salt would always be my number one choice as it contains all the essential minerals that are stripped away in refined salt (table salt). And if I were to choose for Hind, no salt will be added to her meals unless it's a physical must like in baking (salt controls the activation of yeast).
Whichever type of salt you choose to enjoy, remember to only add it to yourself as an adult and keep it away from the reach of children.
Let's get Baking!
This recipe is extremely high in Iron, calcium, vitamin B6, and vitamin B12.
Phytochemicals such as lycopene and Allicin are also present.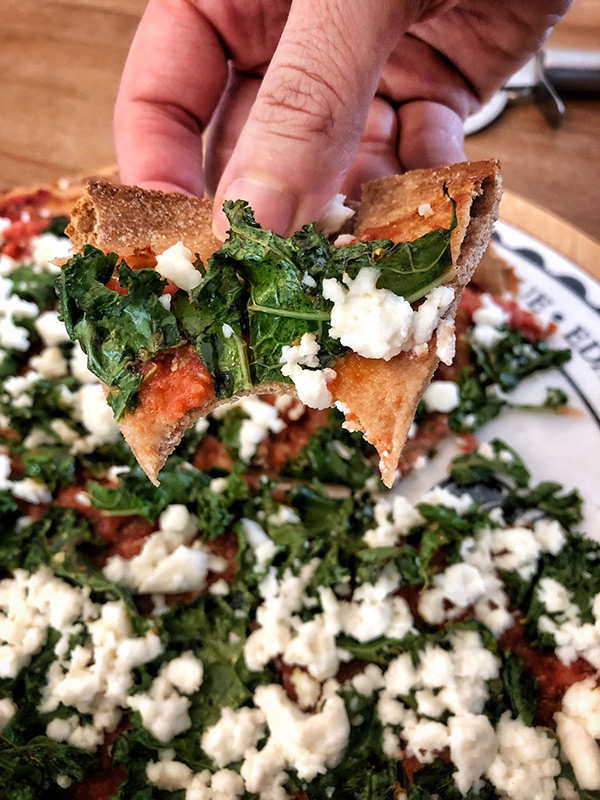 This recipe is divided into 4 sections:
A. Kale chips preparation.
B. Homemade tomato sauce and the toppings.
C. Honey Whole-wheat dough recipe.
D. 112 g of goat cheese 280 calories.
Instructions
5-10 min

A. Kale chips preparation.

Preparation time: 5-10 min.

As for the Kale chips please refer to the following link: "Kale Chips" (Make sure to have the Himalayan salt removed from the recipe).

For the pizza recipe we need half the amount of the kale chips recipe.

Once the kale marinated leave it aside and start preparing the homemade tomato sauce.

Total of 400 calories.

10 min

B. Homemade tomato sauce and the toppings.

Ingredients:

• 4 tomatoes.
• 2 ½ cups of water.
• 2 Tbsp. organic tomato pastes.
• 1 Tbsp. organic dried oregano.
• 1 garlic, crushed

Instructions:

• Cross the tomatoes from both sides and add them into a large pot with water.
• Bring water to boil and keep for almost 5-6 minutes, or until the skin of the tomato starts to peel off.
• Once done, discard of the water, peel the tomatoes, remove and discard the core and the seeds of each tomato.
• Add the flesh of tomatoes into a food processor with the rest of the ingredients and blend till fully incorporated.
• Using a sifter, sifter the mixture to eliminate excess water and get a final thick tomato blend to be used in pizza.

10-15 minutes

C. Honey Whole-wheat Dough recipe

We all know that any dough containing yeast must contain sugar. Yeast ingests sugar and gives off gases in exchange. These gases are what make bread and other baked goods to rise correctly.

What is good about sugar substitutes like honey is that they can sometimes play the role of the usual bad processed white sugar. That is why this recipe contains honey instead of sugar.

This recipe requires no waiting. Once ready, bake immediately!

Preparation time: 10-15 minutes.

Yield: 2 large portions dough, 27 cm pizzas disc each.
Each pizza dough yield to 8 pieces: 224 calories per piece

Ingredients:

• 1 ½ cup of lukewarm water (40 degrees Celsius).
• 2 ¾ Tsp. active dry yeast.
• 1 ½ Tbsp. of honey.
• 1 Tbsp. olive oil.
• 2 ¾ cups whole wheat flour.
• 1 tsp. Himalayan salt.

Instructions:

• Preheat the oven to 230°c.
• Dissolve yeast in the warm water to rehydrate and add the honey and olive oil.
• Mix thoroughly and let it rest for 5 minutes.
• In a bowl, combine the flour and salt. With a fork whisk the dry ingredients to combine.
• Slowly pour in the yeast mixture and stir with a large spoon.
• Stir until all the flour has been incorporated and the dough comes together.

N.B: if you feel that the dough needs a bit more water, don't hesitate to add but be careful of the quantity.

• Divide the surface, and knead the dough several times, till it completely holds together. With a knife, cut the dough into 2 round balls.
• With a rolling pin, roll each ball into a round 27 cm diameter.
• Transfer each round onto parchment paper and brush the outer layer of the dough with olive oil so it doesn't dry out and becomes hard to cut or chew.

D. ASSEMBLY

• Cover one dough with tomato sauce and goat cheese
• Bake until the cheese has melted, or until the edges of the crust are golden in color. (Around 5-7 minutes).
• Once out, add the marinated kale chips and spread evenly over the top.
• Bake again till the kale is crispy in parts and the cheese is well cooked. (Around 6-8 minutes).