Ingredients
A. With "FAGE" 0% Fat yogurt

B. With "CO-YO" vegan coconut milk yogurt

As you noticed the only difference is in the Qt. of yogurt in both recipes
Introduction
A wholesome probiotic ice cream that can help regulate digestive health by providing a dose of healthy bacteria to the gut.
Let's talk a bit of science before writing down the ingredients.
Probiotics are live microorganisms that can be consumed via certain types of food and that can restore the balance in your gut.
Yogurt is one of the sources for probiotics but for children with milk protein allergy, probiotics can be taken from fermented foods like pickles, sauerkraut, etc. Or from COCONUT YOGURT known as CO-YO.
What is so good about coconut yogurt? 
Coconut yogurt is a fermented product made from the flesh of coconut fruits to which live cultures are added. It combines both the effect of probiotics and the electrolytes that normally coconut fruit provides like being a good source of minerals, vitamins and dietary fiber.
Worry less cause coconut yogurt contains 3 times less concentrated fats than the oil since it's made directly from coconut flesh.
So for this recipe, we used either "FAGE" yogurt with 0% fat, or "COYO" organic natural coconut milk yogurt for the vegan version.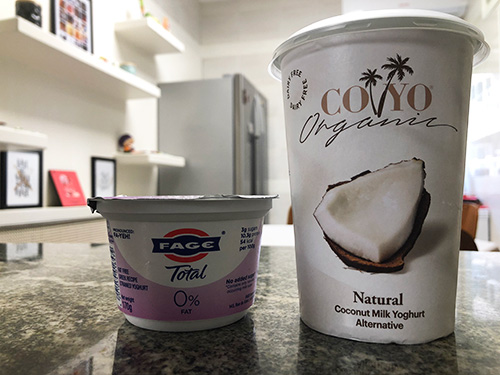 Preparation time: 10 min.
Freezing time: 5 hours.
Calories of Total Dairy ice cream: 410 Kcal.
Ingredients with "FAGE" 0% FAT YOGURT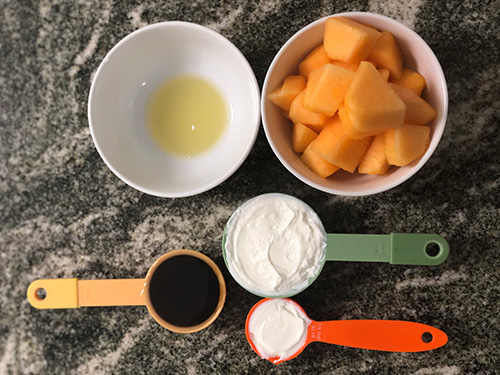 Calories of Total vegan ice cream: 712.5 kcal.
Ingredients with "CO-YO" VEGAN COCONUT MILK YOGURT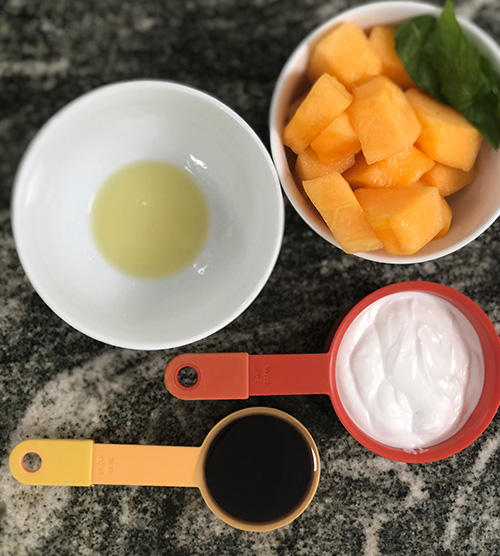 Instructions
C. Instructions are similar to both recipes and are as follow:

In a high-speed blender, add the melon, lemon juice, honey and mint and blend with half the qt. of yogurt.


Once all ingredients are fully incorporated, add the rest of the yogurt and pulse till all mixed well.

Place in popsicle molds (we used silicone push up pops, and round silicone tray)

Freeze and then enjoy!


D. Depending on the size of the Popsicle molds you use, you can estimate the calories of each Popsicle according to how many pieces you get.

With the size I used, I got 4 pops:

• Dairy: 410/4 = 102.5 kcal per Popsicle.

Per piece: ~56 mg Calcium, 183.77 mg potassium, 12.40 mg Magnesium, and 18.5 mg Vitamin C.

• Vegan: 712.5/4 = 178.125 kcal per Popsicle.

Per piece: ~14.24 mg Calcium, 144.45 mg potassium, 26.73 mg Magnesium, and 27 mg Vitamin C.