Ingredients
3

Tbsp. Breast-milk or formula (almond milk 8+)

1

tsp. freshly grated turmeric
Introduction
Ever wondered what is considered a superfood for babies?
It is everything that contains IRON, FAT, ZINC, VITAMIN A, CALCIUM… It is everything Loaded with essential minerals, vitamins, and Macromolecules responsible for optimal growth of an infant. And everything that is high in phytonutrients and antioxidants compounds, and helps boost immunity and reduce the risk of health conditions.
That is why it is very important to understand that your baby's tummy is so tiny only important food that contains lots of nutrients to be introduced and that snacks serve a complementary addition to these recommended nutrients and should only contain servings of fruits and vegetables (6months +).
2 key elements to take into consideration in this Recipe: Egg yolk, and Avocado. These two are on the top list of superfoods for babies and are loaded with amazing nutrients:
A. Egg yolk:
Antioxidant boost: contains vitamin A, D, E, and K along with omega-3 fats. Rich in Folic acid, and vitamin B12.
Improve different immune function and exhibit protective role in infections caused by bacteria, viruses or parasites.
Most concentrated source of Choline an essential nutrient that has vitamin-like properties. Choline is considered to be a memory key nutrient as it has a direct function on the brain and nerves development, also plays a major role in the healthy formation of our cells.
So many studies surfaced on the importance of pregnant women to consume sources of choline as it gains enduring cognitive benefits to their fetuses (a new Cornell University Study suggests).
Babies between 0-6 months get their recommended intake of Choline from BREASTMILK. The adequate intake of choline between 7-12 months is approximately 150 mg/day (just one egg yolk contains about 115 mg of Choline).
The most important part of egg yolk is that baby's digestive system can easily digest it at 6-7 months of age.
Introduction of eggs, in general, have had so many controversies before of when to introduce them especially with babies with a family history of allergies. However, more recent research suggests that avoiding early exposure to these foods may actually increase a child's risk of developing food allergies. But it is still important to talk to your pediatrician before serving these foods to your child.
As for why the egg white not added in this recipe, because it is more difficult to digest at this age, and better be introduced later.
B. Avocado:
Nutrient-dense fruit with healthy fat, vitamins, and minerals. Excellent for proper brain growth, development of the retina of the eye, and the nervous system.
Creamy soft texture, easy to digest and its nutrients EASY to absorb.
Loaded with anti-inflammation and antimicrobial properties, which boost the baby's immune system.
Good source of protein.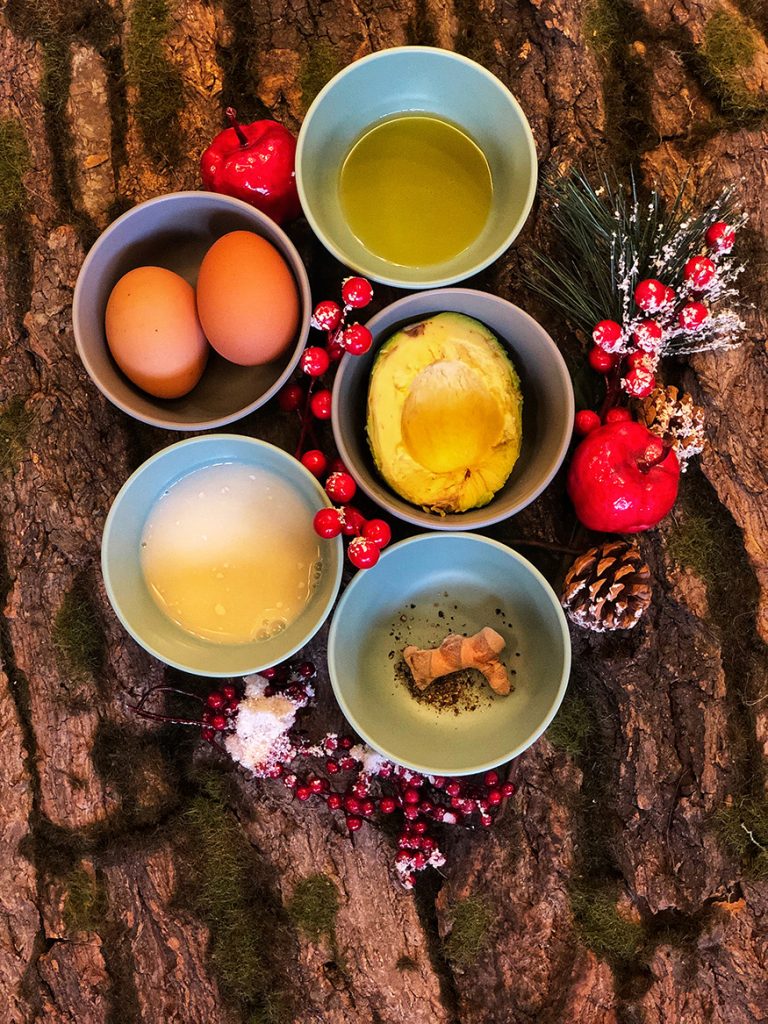 N.B: this recipe requires breastmilk or formula. If the baby is 8 months or older you can apply almond milk. (I don't advice almond milk to be given at 6 months, as it can be difficult for babies to digest. Gastrointestinal problems or abdominal bloating may occur as the body required to process a significant amount of dietary fiber especially with avocado's high fiber supply)
Mixing avocado and egg yolk will actually boost the absorption of vitamin A in eggs by 13x.
Let's start!
Yield: 2 portion size meals.
Per portion: 300 kcal
Contain 27g Fat, 250mg Choline, 7.4g protein.
Instructions
Add 2 eggs in a pot with water, and bring to boil.

When done, remove the white part and keep the hardboiled yolk.

In a bowl mash the 2 yolks, ½ avocado together until creamy.

Add the rest of the ingredients and mix until fully incorporated.
And by that, you have an easy, fast, nutrient-dense meal ready for your baby to enjoy on a Christmas morning.

N.B: Once the baby hit the 10th month, you can add 1 Tsp. lemon juice.